INTERNSHIP MECHANISMS ADOPTED BY THE INSTITUTION
For B.Ed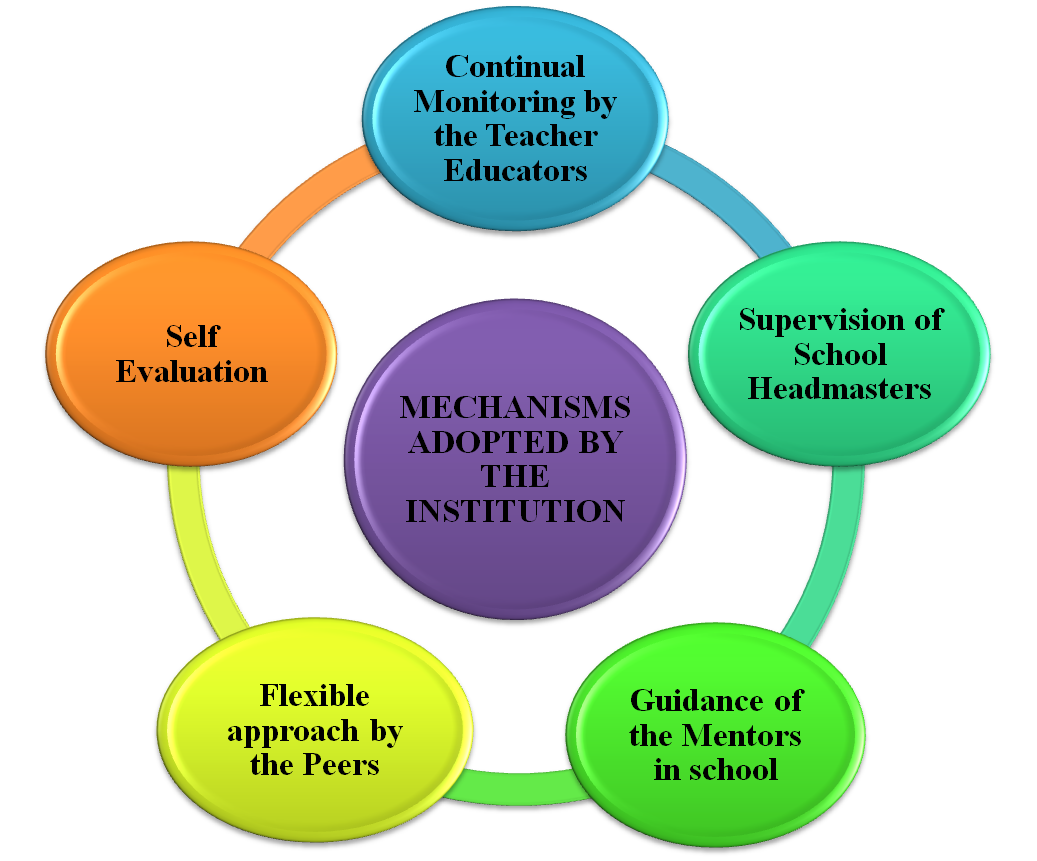 For M.Ed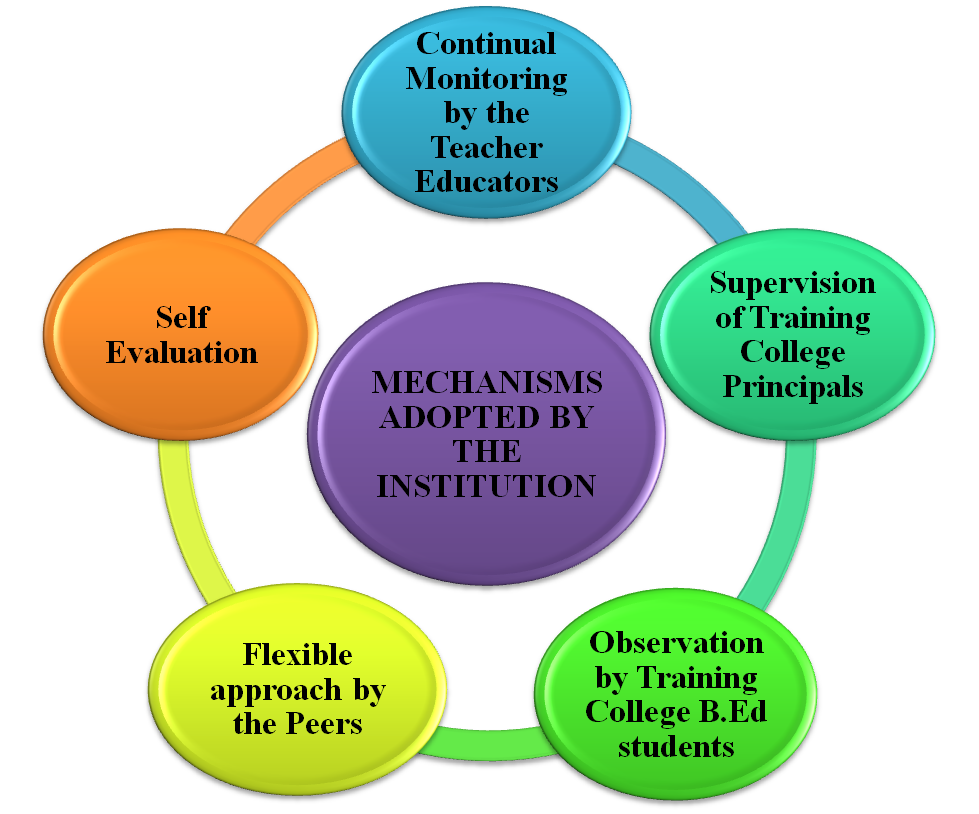 CONTINUAL MONITORING BY THE TEACHER EDUCATORS:
With the aim of getting optimal impact of internship in schools, the institution adopted numerous monitoring mechanisms. The Principal of the institution persuaded the teacher educators to visit the students during the Internship through the circular. The teaching practice coordinator prepared the duty allotment for the teacher educators to visit the schools, for observing both the B.Ed and M.Ed students. Each and every student should be visited and observed thrice by three different staff members at frequent intervals.
On the allotted day, the teacher educator observed and assessed the in-depth knowledge of the subject, their involvement in classroom activities, communication skill, implementation of innovative teaching methods, preparation of teaching learning materials, participation in school activities, time management, teaching competency, etc. During Saturday's the students were came in the college campus and put forward their doubts and in the same day proper clarification was given to them by their teacher educators.
SUPERVISION OF THE SCHOOL HEAD MASTERS/PRINCIPALS:
The school Head Masters/Principals checked the regular presence of the student by signing their attendance both in the morning and evening sessions. Even the school head masters examined the teaching competency of the students by observing their classes and provided feedback which emphasized the students' regularity, punctuality and content preparation, interaction with the students and co operation with the mentors to enhance their teaching skills. The head masters also allowed the student to take part in curricular and co-curricular activities like Quiz, Exhibition, Oratorical, Drawing, Dance, Drama, Mime, PTA meetings, NSS, Guide and Scout activities. Students are involved in assembly activities and celebrations which were conducted by the School Head masters. If they found any inconvenience on the part of students, it will be informed to the college by the school head masters and necessary actions were taken by the teacher educator to solve the inconveniences.
GUIDANCE OF THE MENTORS IN SCHOOLS:
On the very first day of the internship, Mentors were allotted by the HM to the B.Ed students. Mentors shared their time table to the trainees and allowed them to observe their classes for the first ten days to learn how to motivate, present the content, ask questions, interact, control the class, assign the work, etc. Mentors observed the teaching competency of the students to assess their implementation of innovative teaching methods and effective presentation of content and provided immediate feedback to mould them as full-fledged teachers.
The B.Ed students will be observed by the mentors allotted in Schools and M.Ed by the B.Ed students who are in internship.
FLEXIBLE APPROACH BY THE PEERS:
A separate assessment sheet was provided to all the students to observe the classes of their peers. They were insisted to give opinion and suggestions orally to their peers and in written form.
SELF EVALUATION:
Self appraisal form facilitates the students to categorize their language proficiency, communication skill, teaching competency, flexibility and academic excellence.